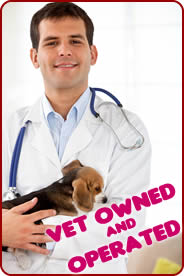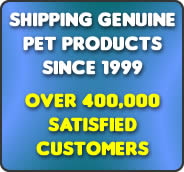 Name Brand Pet Supplies, @ Discount Prices.




[Add to Favorites]

The dilemma of online shopping:

High priced items are always on the top but their big marketing bucks will be your cost.
The cheapest ones are buried under the pile as our profit margins can't cover the cost.


You've found us the hard way, don't let the luck slip away, order your Pet Meds right away!

Start => : Flea & Tick :: Seresto :





Description

Seresto is an effective, reliable alternative to monthly flea and tick topicals that lasts for 8 months. Seresto is a flea and tick collar for dogs and cats that uses exciting, innovative technology to release the active ingredients in controlled doses over an extended period of time. This means effective long-term flea and tick control without the inconvenience of monthly applications. Seresto protects your pet from fleas, flea eggs, flea larvae and ticks for eight months. It is available in three formulation, small dogs, large dogs, and cats. It is non-greasy and odorless.

For: Dogs and Cats 10 weeks of age or older

Benefits:
Starts killing fleas within 30 minutes
Provides effective flea and tick control for eight months
Kills fleas before they can lay eggs
Prevents ticks infestations within 48 hours after application
Water-resistant and will continue to work even if wet or dirty
The flea and tick collar releases the two active ingredients in low doses over an extended period of time. The ingredients are then absorbed through the fatty layer of your pet's skin and distributed throughout your pet's body to protect against fleas and ticks for eight months. Seresto can be worn alongside your pet's regular collar.
Cautions:
The collar should not be used on puppies younger than seven weeks old or on kittens younger than ten weeks old. If ticks are present on your pet when the collar is applied, they will not die within the first forty-eight hours and should be removed manually. If your dog or cat shows any sign of skin irritation or other reaction to the collar, remove immediately and consult your veterinarian.
Dosage
Remove the collar from the tin and laminated bag.
Place the collar around your pet's neck.
Push one end of the collar through the loop.
Adjust the collar for correct fit.
Snip off the excess collar.

| Pet | Weight (lb) | Weight (kg) |
| --- | --- | --- |
| Cats/kittens | Any | Any |
| Dogs/puppies | 0 - 18 lbs | 0 - 8 KG |
| Medium/Large Dogs | Over 18 lbs | Over 8 KG |
More Information
Brand Name: Seresto
Generic Name: Flumethrin 4.5%, Imidacloprid 10.0%
Seresto is an effective alternative to topical flea and tick control. It is an innovative new flea and ticks collar that releases continuous active ingredients for 8 months, ensuring your pet is protected against harmful conditions that fleas and ticks can transmit. Seresto kills existing fleas on dogs in 24 hours, and reinfesting fleas within 2 hours with protection against further infestations lasting eight months. Ticks already on your pet prior to treatment may not be killed immediately and may remain visible and attached. The prevention of infestations with new ticks starts within 48 hours after application of the collar. Seresto kills lice on dogs for one month, and aids in the treatment and control of sarcoptic mange.
How should Seresto be used:
For Small Dogs up to 18 lbs, for Large Dogs 18 lbs and over, and for Cats of all weights:
Remove the collar from the tin and laminated bag.
Place the collar around your pet's neck.
Push one end of the collar through the loop.
Adjust the collar for correct fit.
Snip off the excess collar.

What special precautions are there:
Do not allow children to play with collars or allow to put them in their mouths. Avoid contact with eyes, skin or clothing. Wash thoroughly with soap and water after fitting the collar. People with sensitivity reactions to the ingredients of the collar should avoid contact with the collar. Choking hazard. Contains small parts. Not intended for use on humans.
How should I store this product:
Store in a cool, dry place inaccessible to children and pets.
Feedback
I have 1 medium size dog and 1 large dog. The medium size dog HATED topical treatments. He knew when it was that time of the month to apply it and he would go and hide .When we did finally apply it he wouldn't come near us ! The Seresto collar is WONDERFUL. No more wrestling to apply it.He wears it just like his other collar. No stress for any of us. Also haven't seen any ticks or fleas at all.
Our cat had some major flea problems. We would only find a few fleas, but lots of other "material". I thought it was from rolling in sand, not true, flea stuff. We put on the collar and in two days with usual combing, not a hint of fleas or "flea stuff" ! One happy cat...Went out a go a collar for the dog. Great product.
After a flea infestation last summer, despite using topicals each month per product's instructions, I asked my vet for any other options. Seresto collars were recommended. When a woman in the waiting room spoke up to talk about how much she liked the product, I decided to give it a try. I have been very pleased with the product.
This is an excellent flea and tick product. I have four dogs that have free reign on my two acre wooded property located on a river in the South. I have used this product for two years, and if this product was to fail, it would have by now.
I have 2 Golden Retrievers and this is the 2nd season they have had the Seresto collars - NO fleas on them either season. Recently we went walking in the woods and they came out with MULTIPLE ticks, but even under their fur, the ticks I found on their skin were DEAD, not engorged at ALL. I'll continue to recommend this product to my friends! they have had no reactions either.